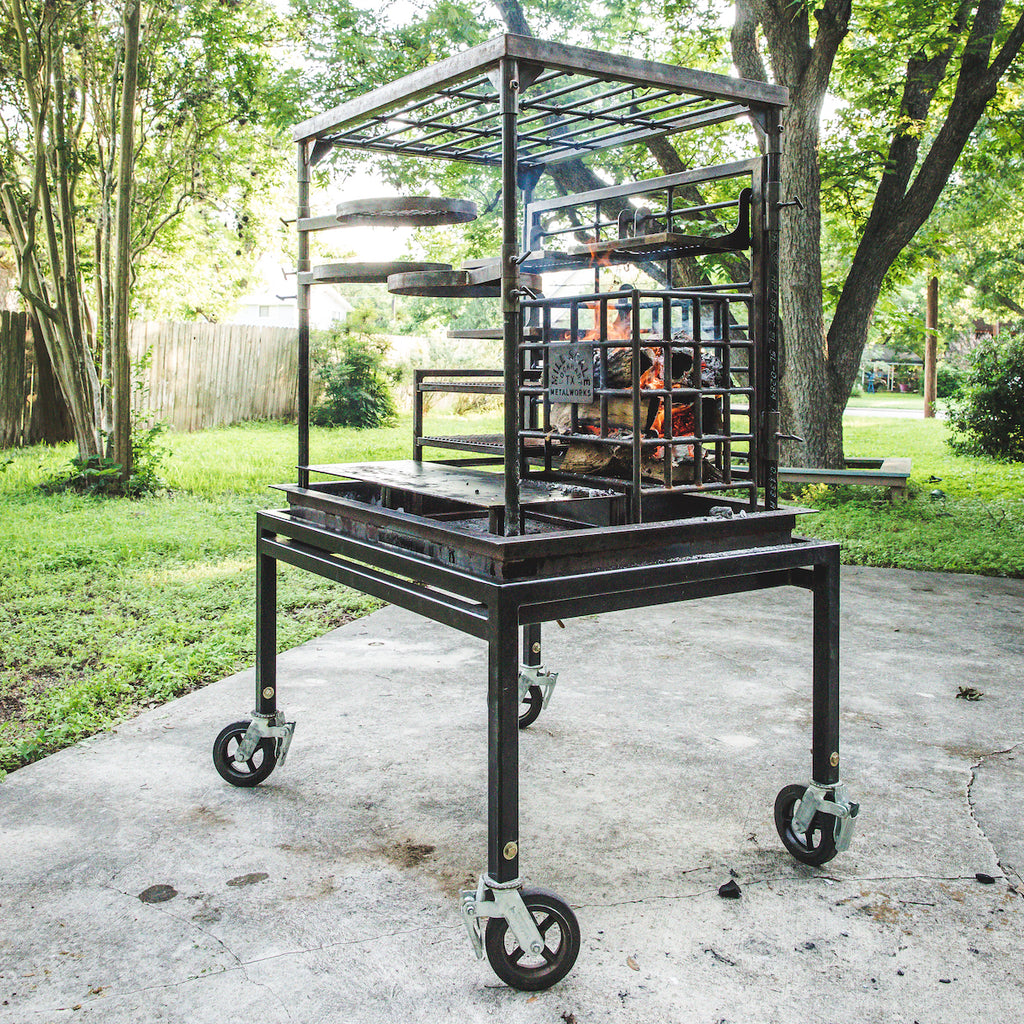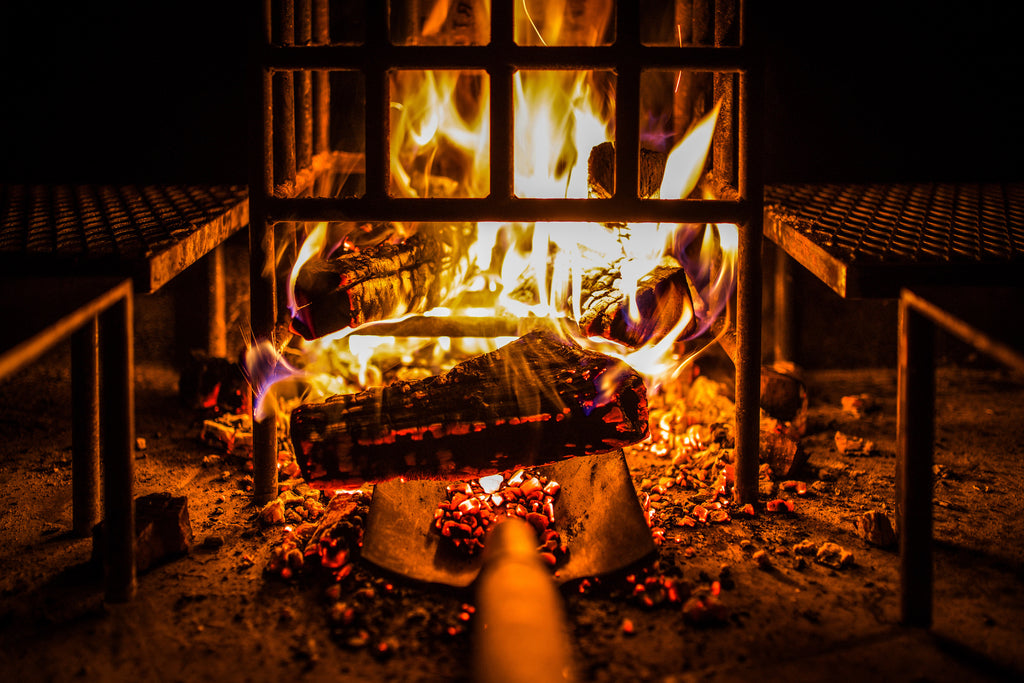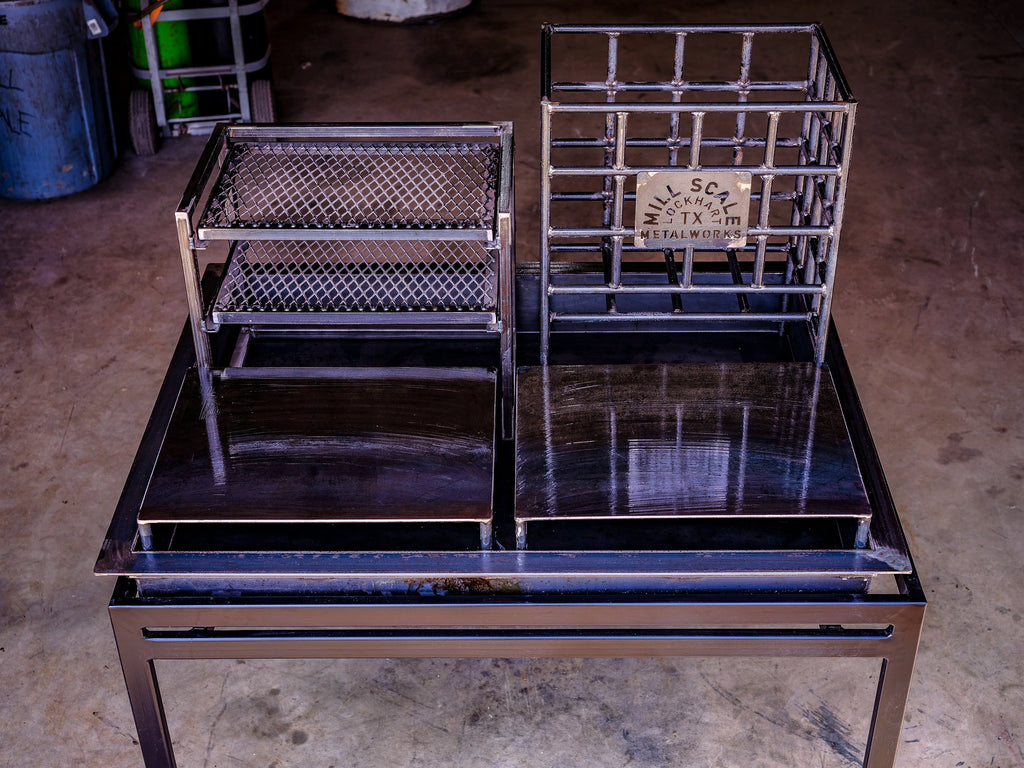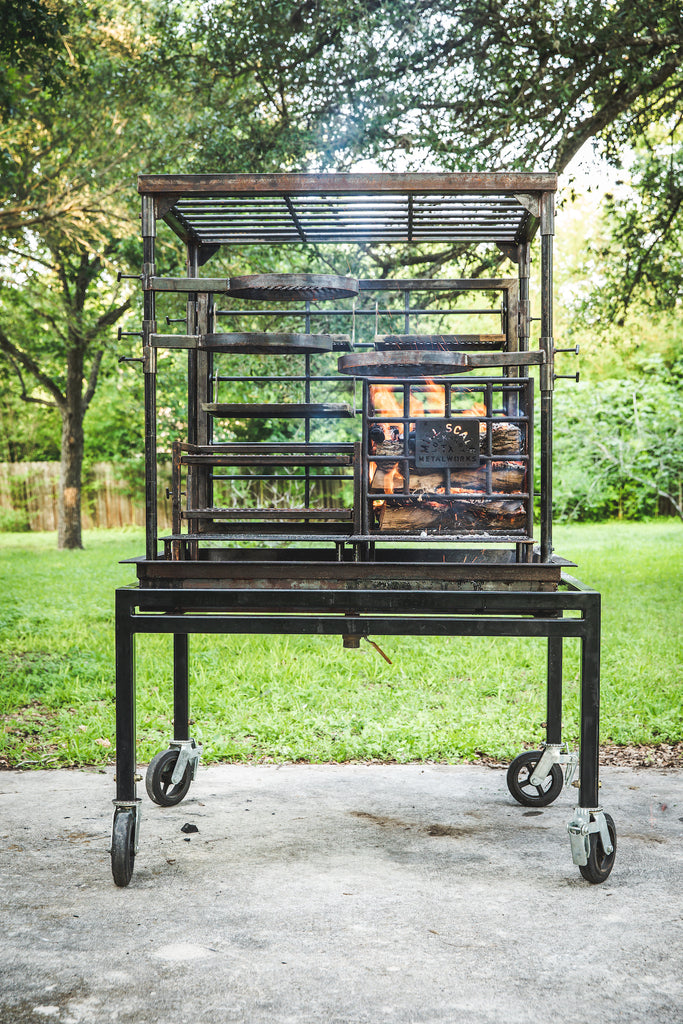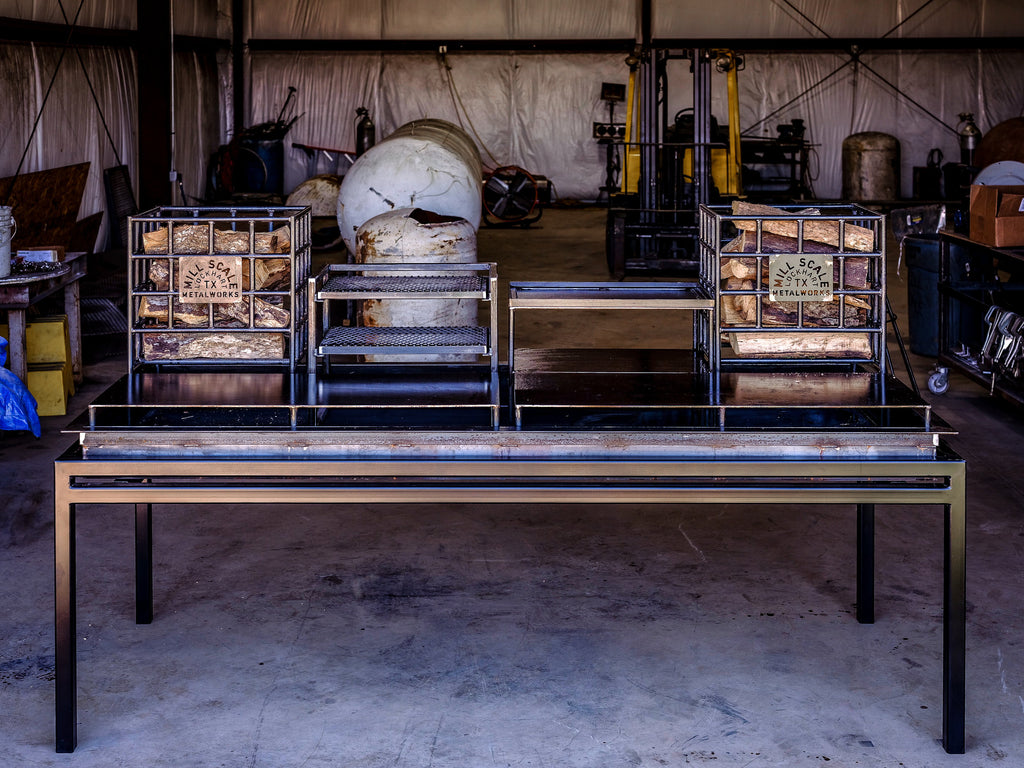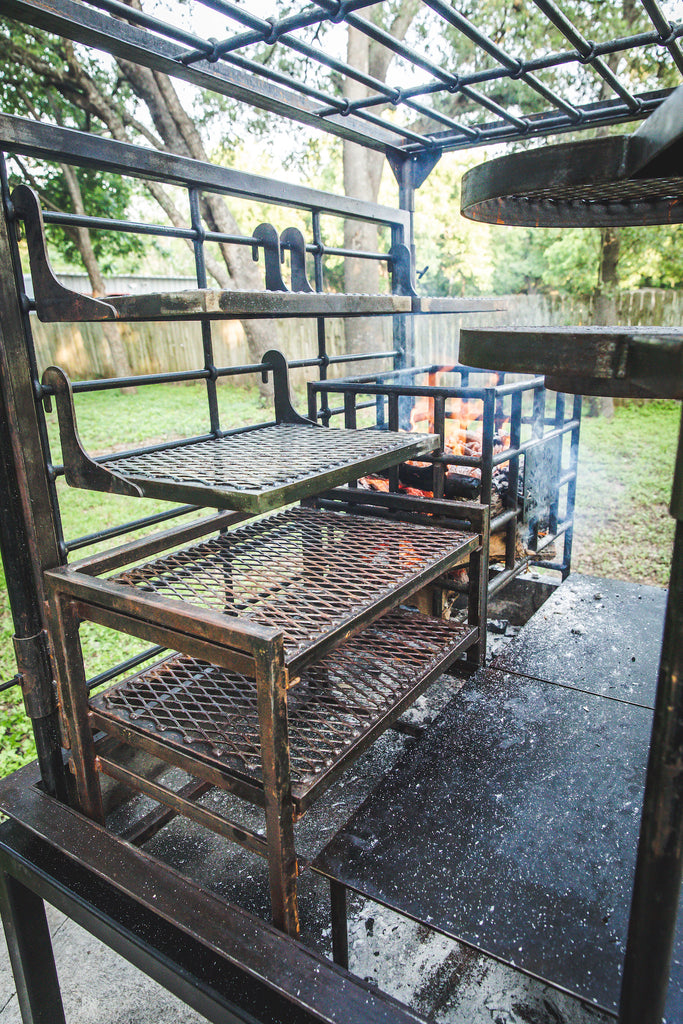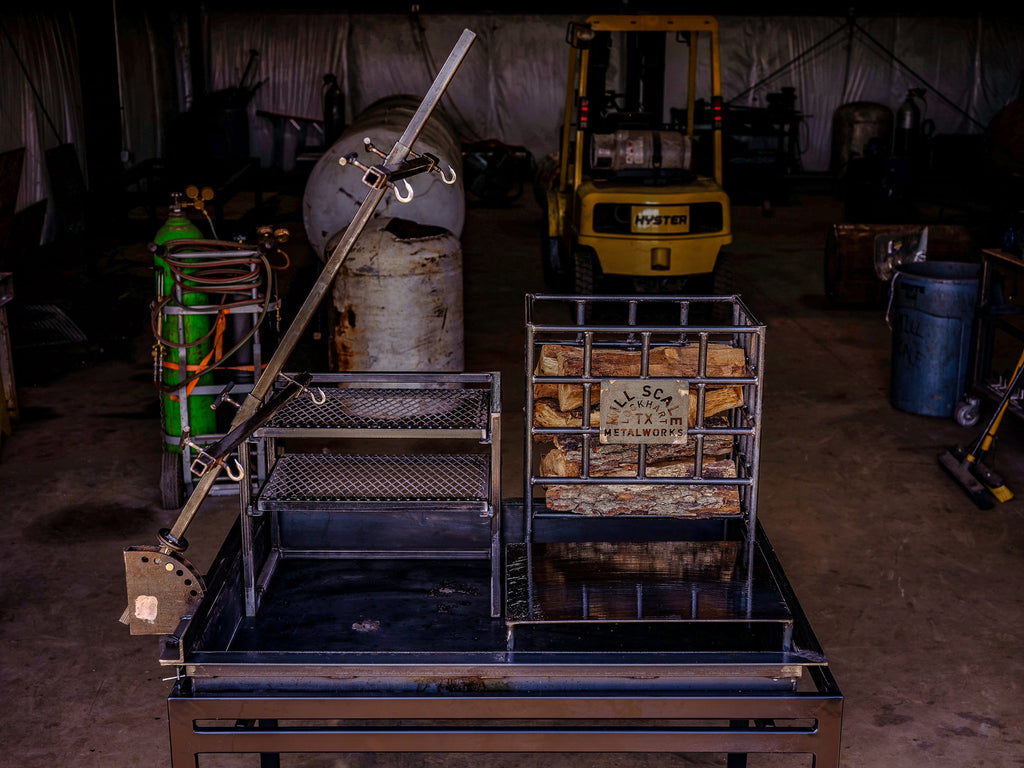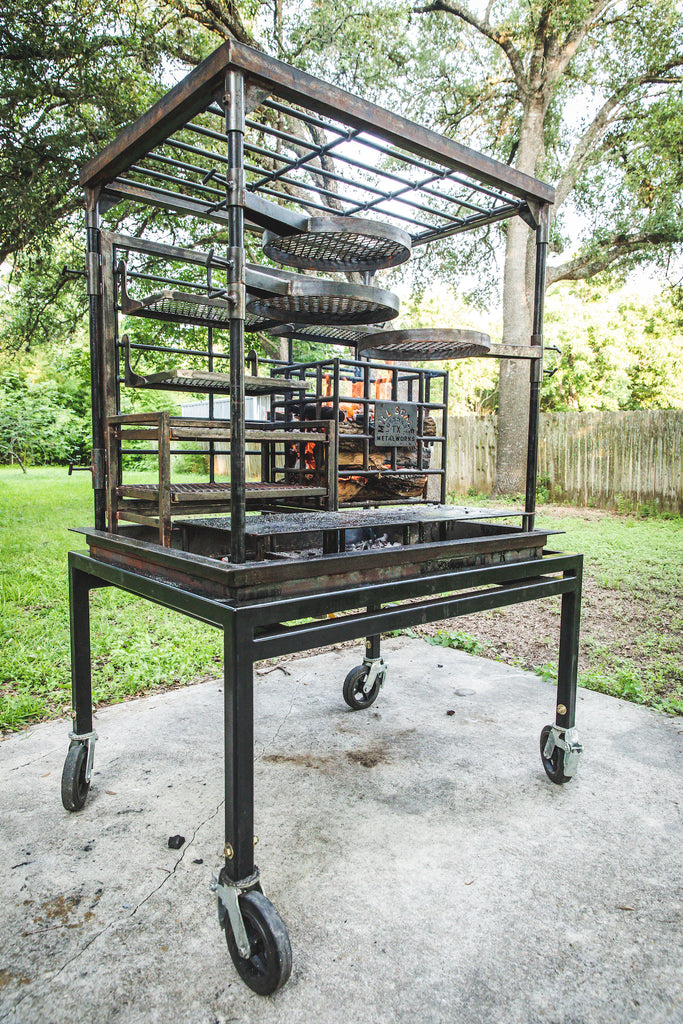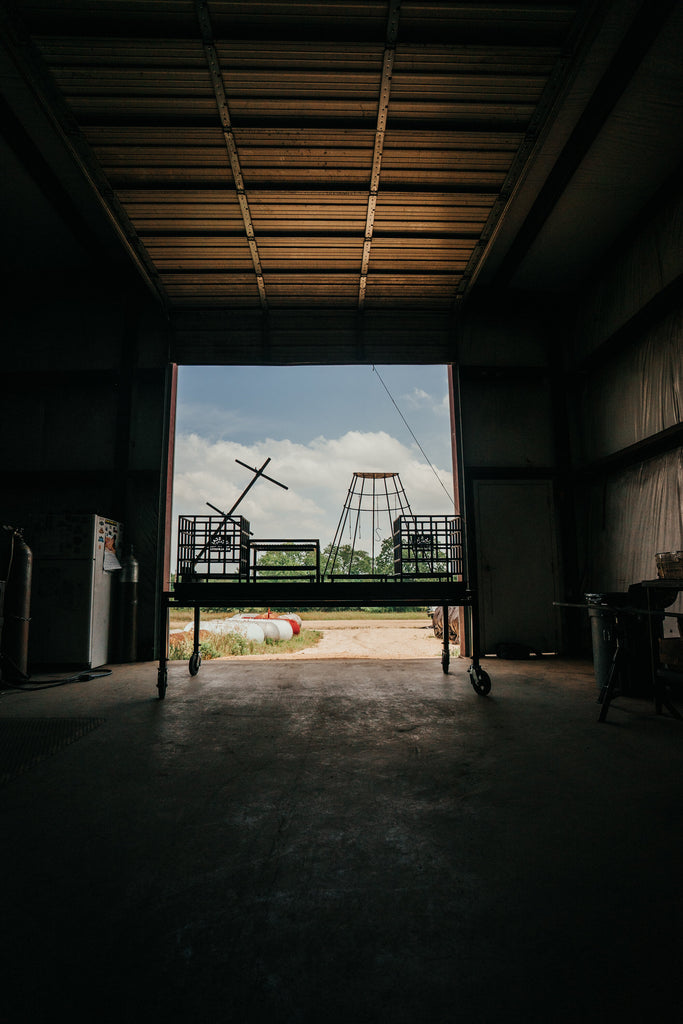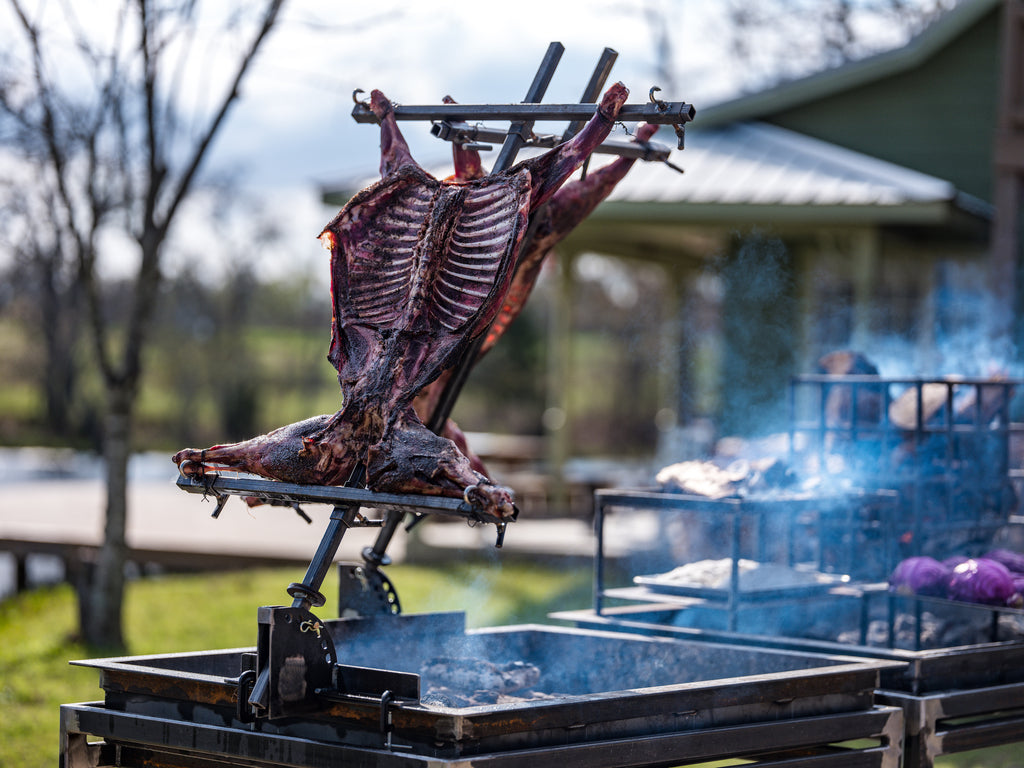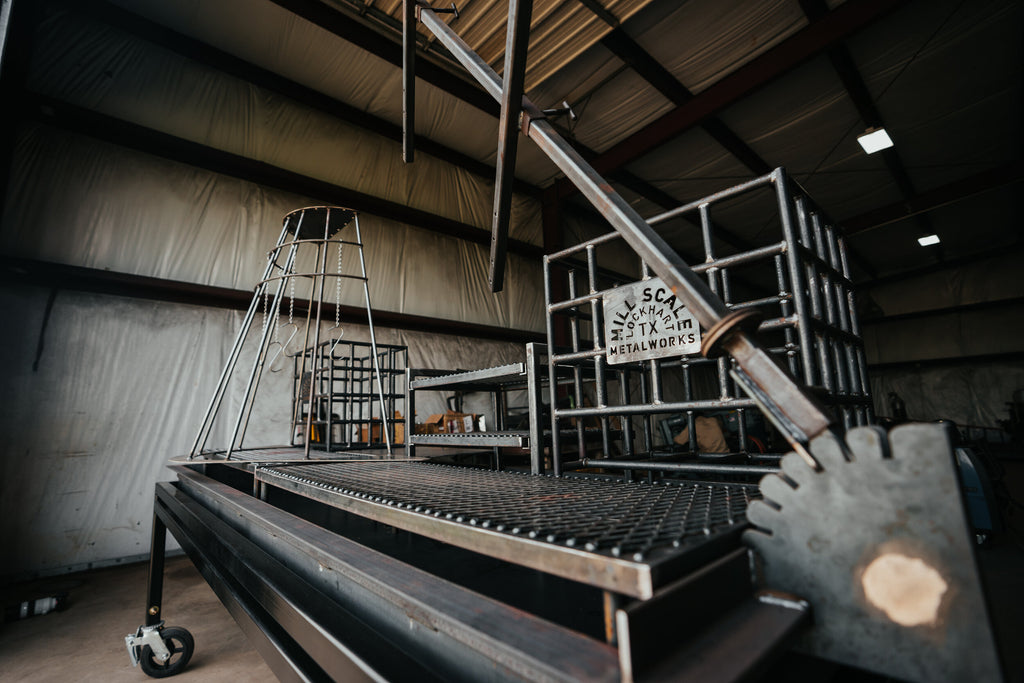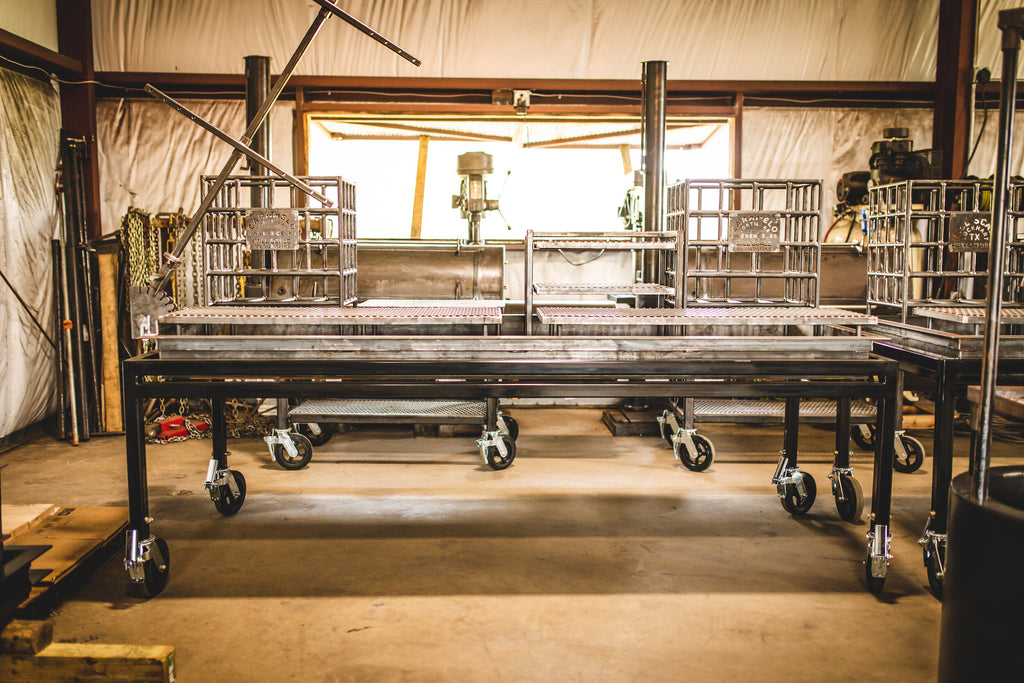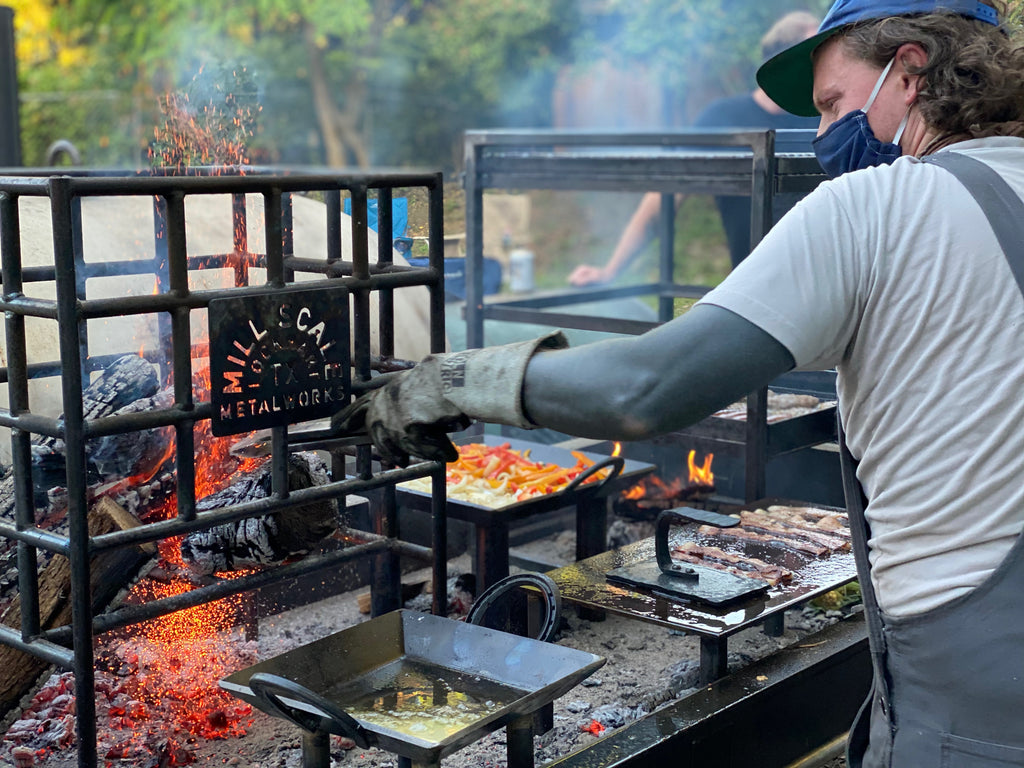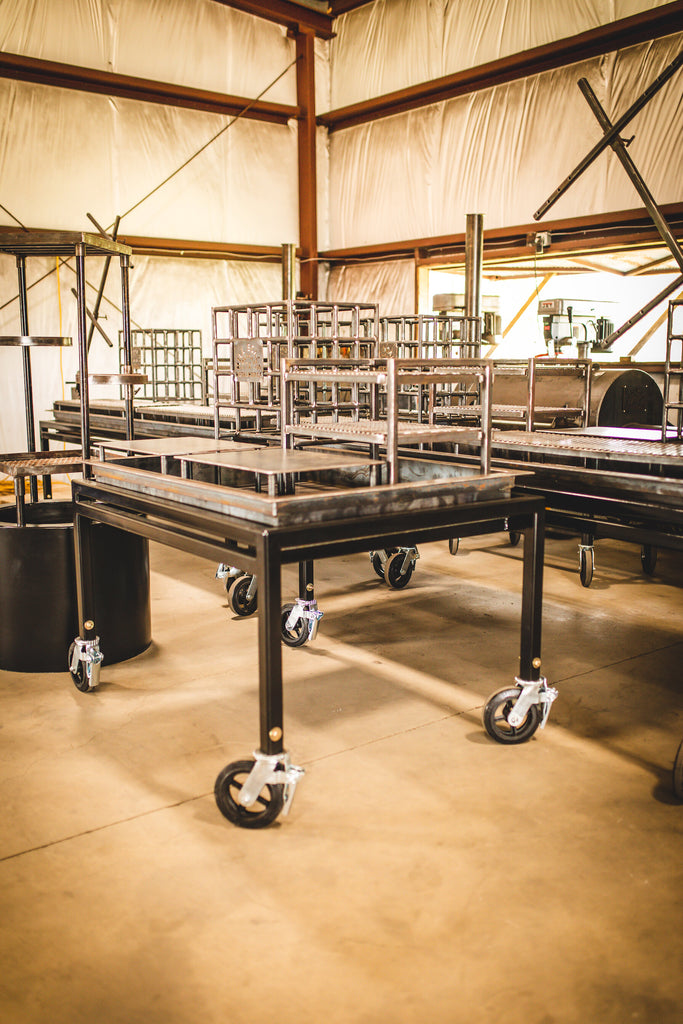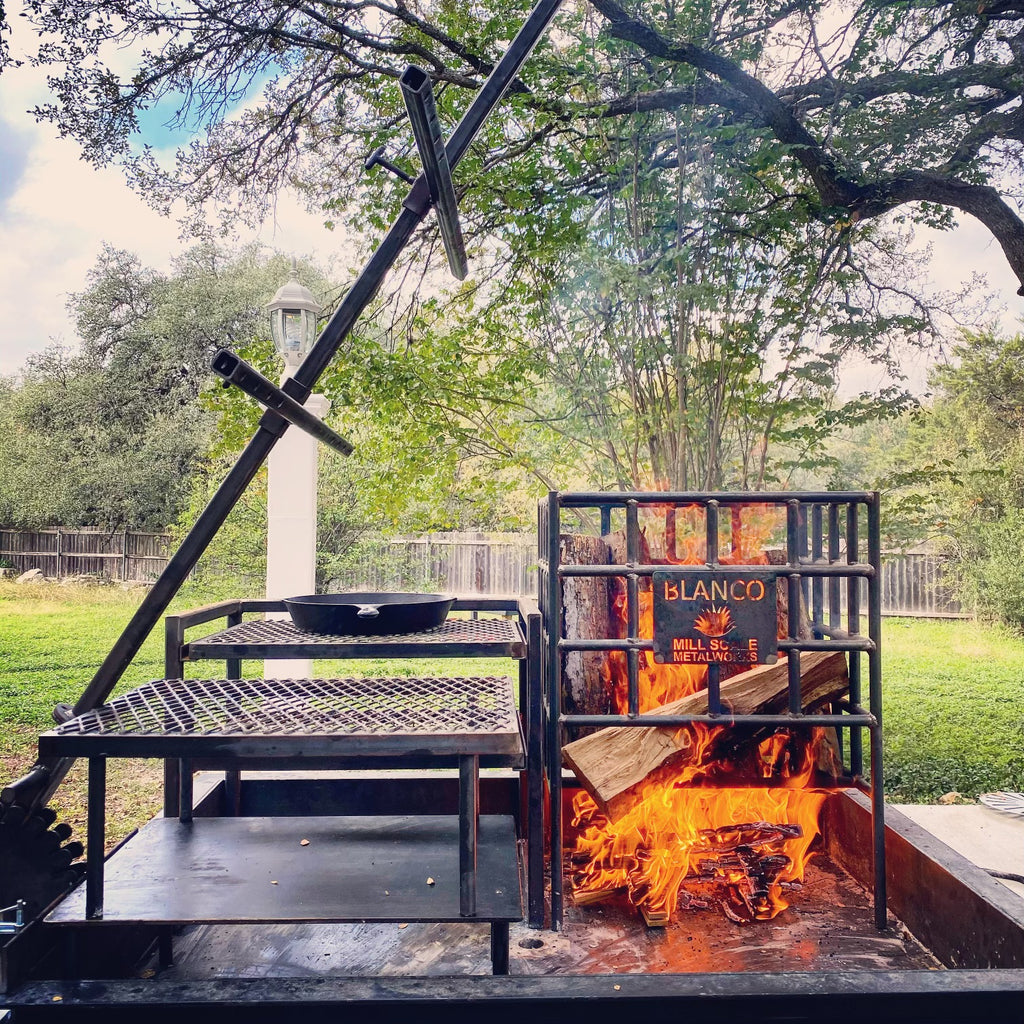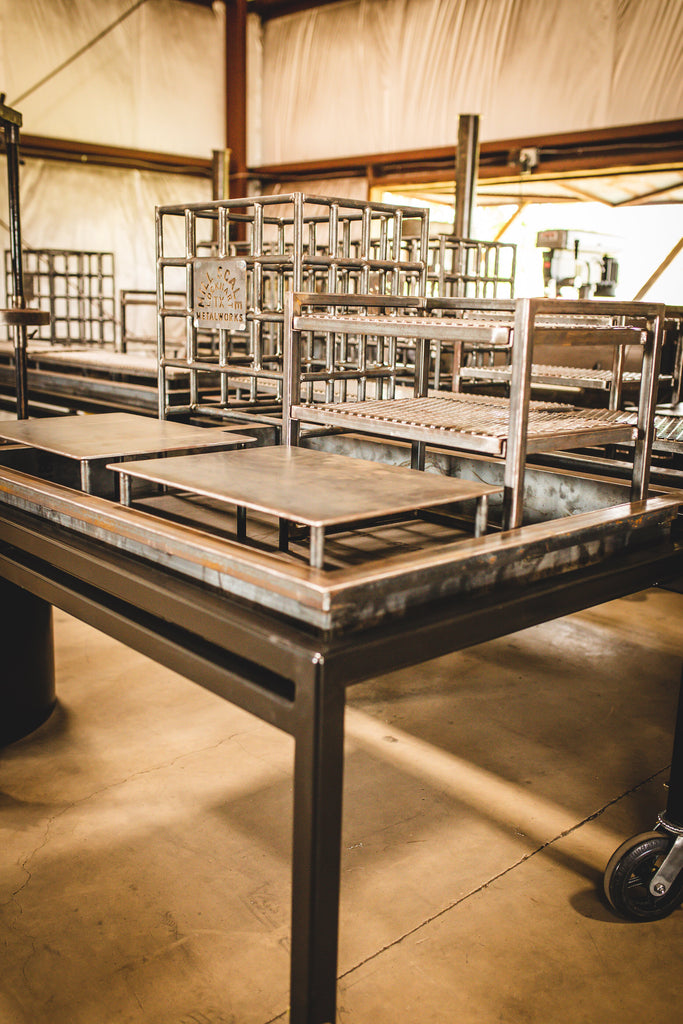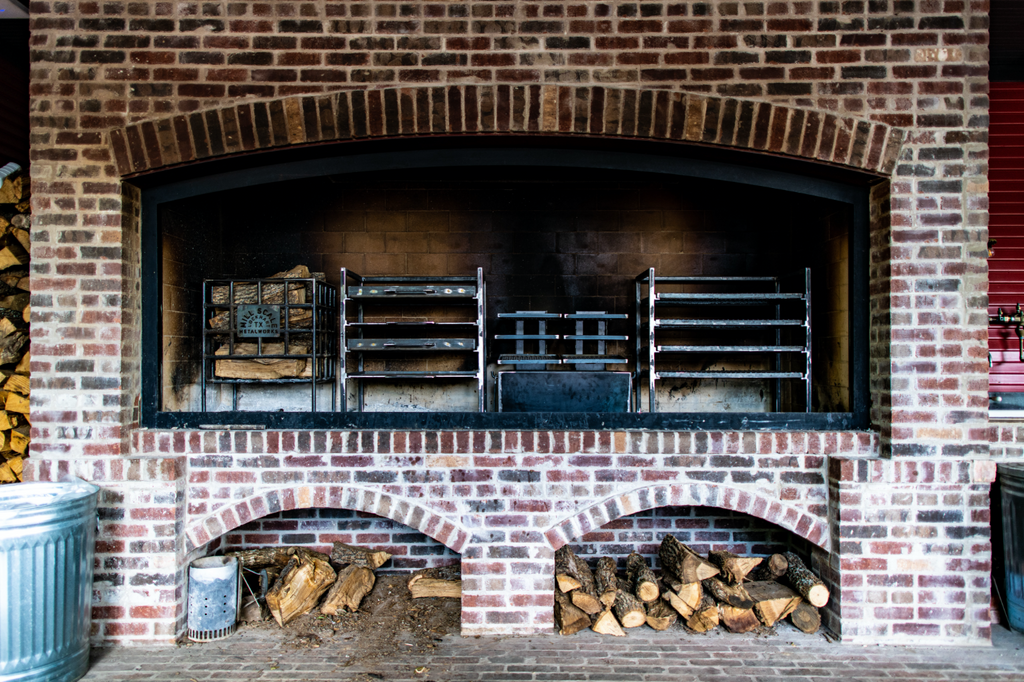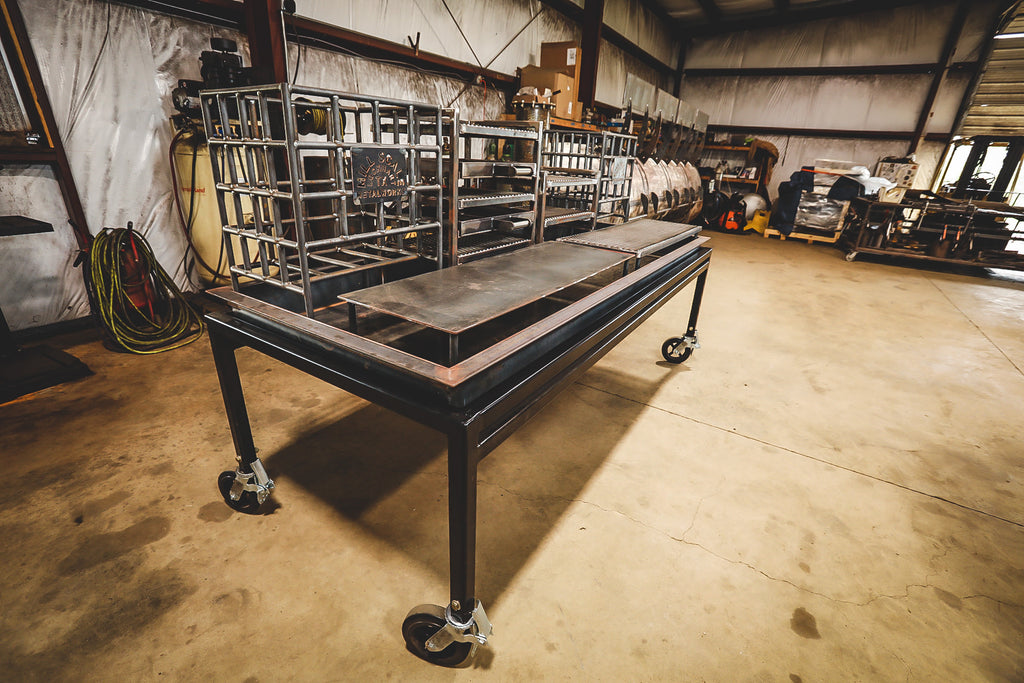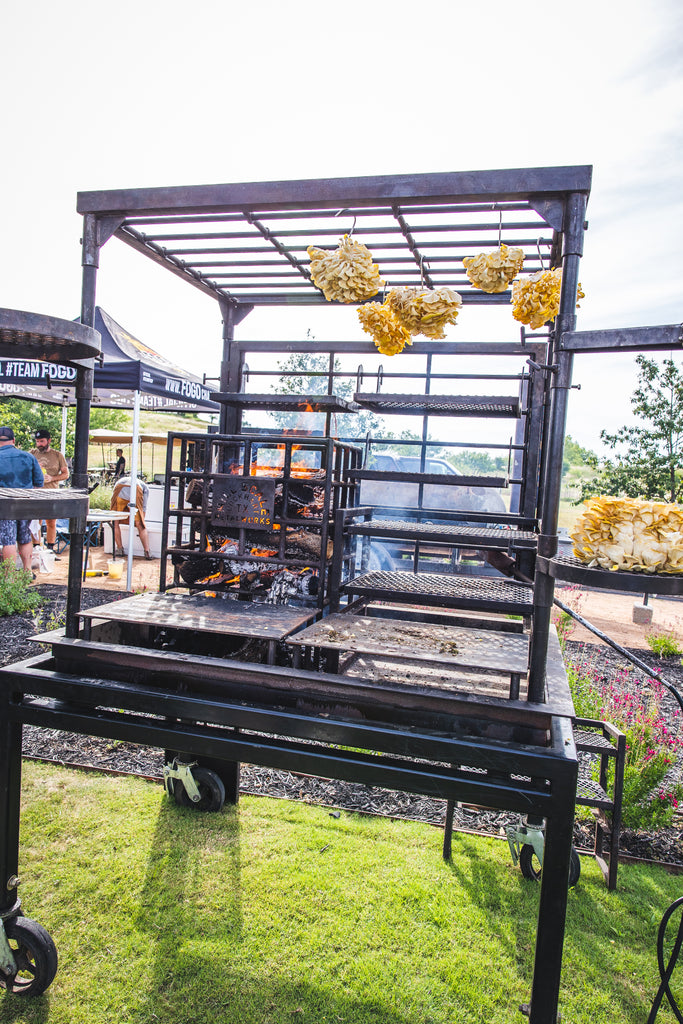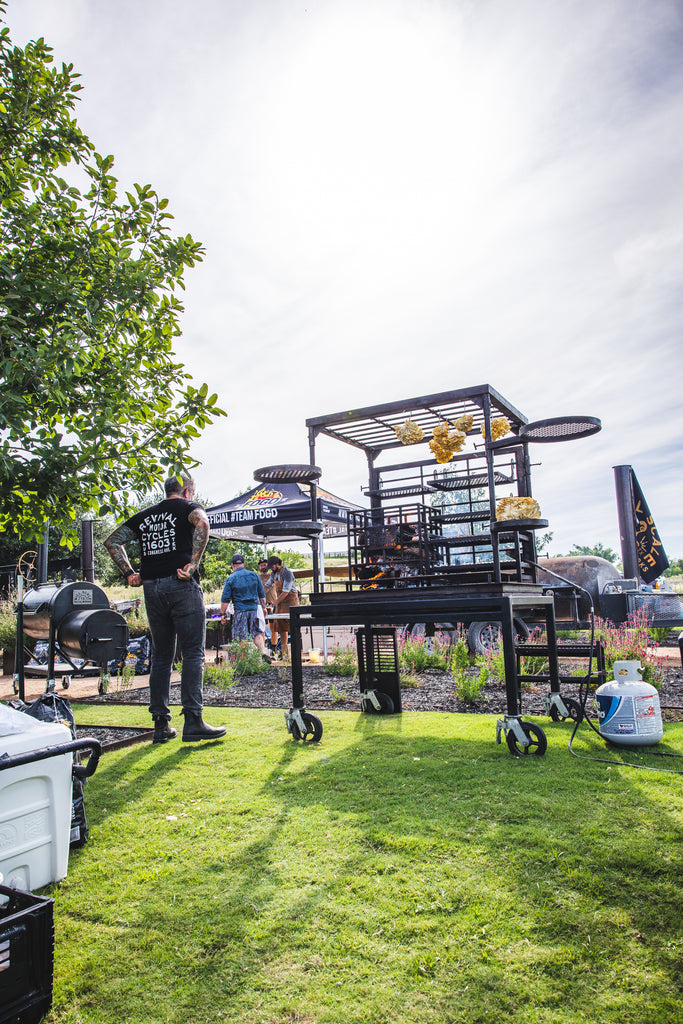 Cookers
Open-Fire Grills
PRICE
$5,275.00
---
Rooted in South American asado cooking methods, this grill is designed to use every stage of the fire. It functions as a stage, giving the chef the ability to put on a show cooking steaks, vegetables, and whole animals. We build 4' and 8' open-fire grills for restaurant and backyard use. There are base models for both sizes and additional attachments can be purchased to upgrade the experience.
Each grill comes standard with a frame, grill basin, and components at varying sizes. Additional components are available as add-ons. See Product Specs and Catalog Page for details:
Log Burner - Generates coals by burning down logs. 

Cooking Grate - Use like any grill grate, and make sure to clean it well after it is used.

Multi-Level Grill - This item allows for cooking at different temperatures. Use the lowest grate for fast searing, and the upper grate for warming or resting.

Plancha - This flat steel surface allows you to get a nice sear without drying out the ingredients. Keep this component seasoned like a cast-iron pan.

Iron Cross - Cook whole animals: pig, lamb, or goat. Use the provided clamps to secure the cross to the basin. Anchor the trotters with the u-bolt system, then lean the cross toward the fire.  Control heat as necessary.

Asado Dome - Hang various meats from the included hooks and chains, and occasionally rotate them. There are multiple height options to hang the chains to control the temperature.  

Upper Rack Assembly - The Upper Rack Assembly adds versatility, and expands possible cooking techniques with a vertical component for hanging meats and vegetables. The 4' grill accommodates the 4' upper rack.  The 8' grill accommodates the 6' rack.
Back Wall  - This attaches to the Upper Rack and serves as a structure for the floating cooking grates. Requires Upper Rack Assembly.
Floating Cooking Grate - These grates hang on the Back Wall at different heights, allowing for hot and cool zones. Position the grate for direct heat cooking, smoking, warming, or resting. The 4' back wall fits up to 3 grates.  The 6' back wall fits up to 6 grates.
16" Swing Grill - Larger modular grill grate can be positioned anywhere along the Upper Rack poles to control temperature.
Individual components are also available to order, and are meant to be used with a built-in hearth.
Each Open-Fire Grill is made-to-order. Please allow for a lead-time of 10-12 weeks.
Shipping is not included in the purchase price. Once complete, the Open-Fire Grill can be picked up at our shop in Lockhart, TX free of charge. The Grill can also be shipped on a pallet. All shipping and handling fees will be invoiced separately near the completion date. We can provide a shipping and handling quote upon request. 
To see a detailed catalogue, click here:
---
+ Product Specs
4' Grill Base Model Includes:
Frame and Basin
4ft x 3ft Basin
Powder-Coated Frame (on 8-Inch Locking Casters)
Components
1 Log Burner
1 Multi-Level Grill
2 Planchas or 2 Cooking Grates
APPROXIMATE WEIGHT: 700 LBS.
8' Grill Base Model Includes:
Frame and Basin
8ft x 3ft Basin
Powder-Coated Frame (on 8-Inch Locking Casters)
Components
2 Log Burners
1 Small Plancha
1 Multi-Level Grill
2 Large Planchas or 2 Large Cooking Grates
APPROXIMATE WEIGHT: 925 LBS.
Optional Add-Ons:

Iron Cross
Asado Dome
Upper Rack
Back Wall
Floating Cooking Grate
16" Swing Grate
---
+ Technical Diagrams